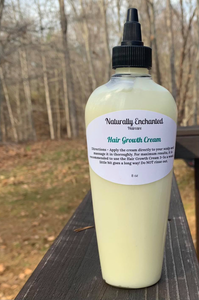 This product is our #1 seller for a reason!  This moisturizer is an all-natural, organic moisturizer. The Hair Growth Cream is made of TONS of oils such as Castor Oil, Hemp Seed Oil, Peppermint Oil and so much more. Every ingredient used to formulate this beauty has been used for many, MANY years to help stimulate healthy hair growth, strengthen the hair strands, and provide the essential nutrients that your hair needs! This product is also safe for children 2+.
Directions - Apply the cream directly to your scalp and massage it in thoroughly. For maximum results, it is recommended to use the Hair Growth Cream 3-5x a week. A little bit goes a long way! Do NOT rinse out.

*Note: This product contains oils derived from nuts, if you have a nut allergy please refrain from purchasing. The product has a six-month shelf life.