Marshmallow Root, Slippery Elm and Cinnamon Deep Conditioning Treatment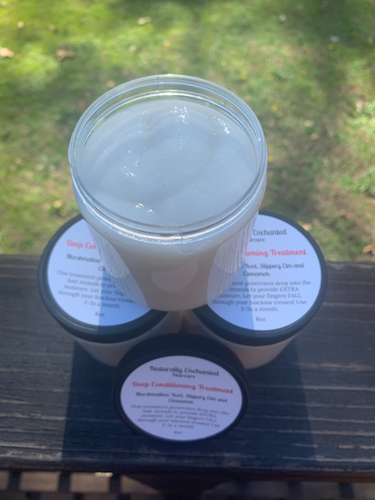 Marshmallow Root, Slippery Elm and Cinnamon Deep Conditioning Treatment
Do you have dry or brittle hair along with experiencing some breakage? Well, look no further. We've got ya covered! Our Marshmallow Root Infused Deep Conditioner has just what you're looking for. It holds some of the most well known and organic oils along with softening herbs. Crafted into this unique product is Shea Butter and Apricot Oil. Shea Butter is amazing for providing moisture to those dry and rough spots. You know, the stubborn areas! Apricot Oil tackles the "root" and cause of brittle hair along with preventing breakage as well as softening the hair strands. Lastly, Marshmallow Root, Slippery Elm Bark and Natural Cinnamon works phenomenal on ALL hair types! So, this product is definitely for you!
Here's how it works!
Apply the deep conditioner to damp hair atleast once a week and leave in for up to 30 minutes before rinsing out. For an intense treatment, cover your head with a shower cap or bag and leave in for an hour!