Sweet Honey Nectar Scalp Balm and Treatment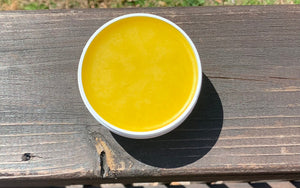 Sweet Honey Nectar Scalp Balm and Treatment
Often times when we think about growing our hair, we tend to forget that ALL hair grows from the scalp! Our Sweet Honey Nectar Scalp Balm is unique for several reasons. The key ingredient is simply HONEY. Honey has been used in hair regimens at home and professionally for many centuries. It's well known for its ability to provide moisture to dry/damaged scalps, which opens up the hair follicles to stimulate continuous and beautiful hair growth. Also, crafted in this SWEET gem is Grapeseed oil and Avocado oil. Both of these oils are also proven to provide the nutrients necessary for flawless hair growth!
Here's how it works! 
This balm is super lightweight, non-greasy and absorbs directly into the scalp like oil. Which we absolutely love! Simply massage into the scalp 3-4 times a week (or every day, which is super safe!) and watch your hair transform before your eyes! It's just that easy.
**If you receive your balm melted, just pop it in the fridge or store in a cool environment. This will NOT change the potency of the product.